Bosch Rexroth service partner
Degra is a service-oriented hydraulics specialist and we can supply technical solutions. As a Bosch Rexroth partner we can help you in many different ways. For example:
Advice on hydraulic components
Supplying products from the Bosch Rexroth product line
Maintenance and service of hydraulic parts and complete installations
Fast and easy contact
high-quality, tailor-made solutions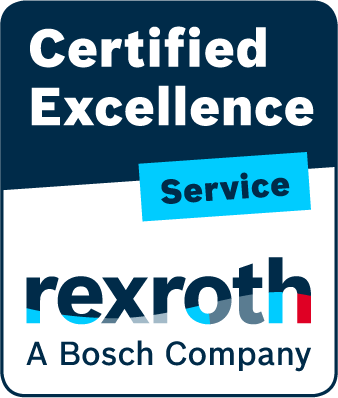 Advice, repair and maintenance
We are pleased to help you choose the right product. You can contact us for assistence, as well as questions about repair and maintenance.
A10VO, A11VLO and A4VSO pumps
Bosch Rexroth has various types of pumps including axial piston pumps, external gear pumps, internal gear pumps, gerotor pumps, vane pumps and radial piston pumps. The well known A10VO, A11VLO and A4VSO are a part of these as well. Do you need help with choosing the right pump for your usage? Our team is ready to help you. Contact us for more information. 
A6VE en Hägglunds engines
Are you looking for axial piston motors, external gear motors or a radial piston motor? Whether it is the well-known A6VE or one of the well-known Hägglunds CA or CB radial piston motors, we are pleased to help you. As a hydraulics service partner, we combine our hydraulic knowledge with years of experience and leading products from Bosch Rexroth so we can help you find the right engine.
Hydraulic cylinders Bosch Rexroth
The product line of Bosch Rexroth contains a variety of cylinders. Designed and built to work under the toughest conditions. We can help you choose and supply the right cylinder for your installation.
Maintenance, repair and spare parts
With our support in the field of maintenance and repairs, you can count on the quality of Bosch Rexroth and the clear and fast communication that suits Dégra. As a service partner, we also supply (spare) parts from the Bosch Rexroth range.
Bosch Rexroth training courses
Bosch Rexroth has various training courses in the field of hydraulics, electrical engineering, pneumatics, mechatronics and safety.